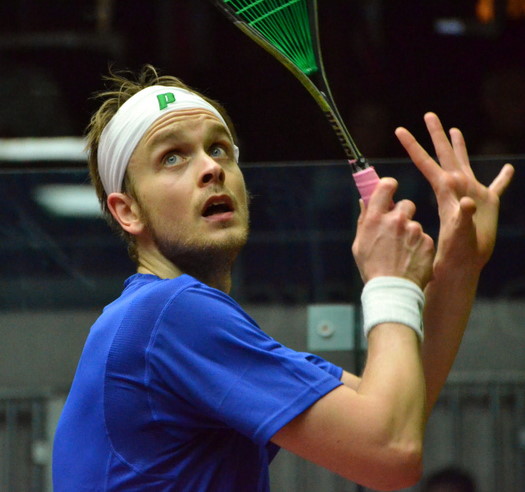 Squash Universe chats with James Willstrop, a member of the PSA World Tour since 1999. James was named Young Male Player of the Year at the 2005 World Squash Awards and PSA Player of the Year at the 2008 World Squash Awards. He reached World No. 1 in January 2012 and held the spot nearly all year. James became the most capped England squash player in history when he won gold at the 2018 Commonwealth Games.
Cover photo credit: British Open
James kindly spoke with Squash Universe by phone. This post is the first of two parts and has been edited for clarity and brevity.
SU: How did you get started playing squash?
JW: My dad was a coach and still is. My family was also involved in the game so I was born into that environment. When I look back, it was very lucky to have had that opportunity to find something [I love] and have so much access to it. My dad would work at the [squash] club and I would go down from being a very young person, two or three years old. Squash was all around me and I would pick up the racquet and get on court and drag him on court and my mum on court.
Then you start playing with the kids in the club. I was very young. There wasn't an exact age when I remember being taken to the squash club – that was the life I was born into. The natural thing was there's a squash racquet so I'll pick it up. My dad is on a squash court so I'll go on it. I found that I really loved it.
SU: I imagine you played a lot of junior tournaments when you were younger.
JW: I do remember first playing in an event – I would have been about six years old – at my local squash club where I still play now. I think I was seven when I played more of a regional event – a club open tournament. That was it really – I was thrown into this world. It was very social really – it was [playing with] your friends after school. There would be a lot of kids the same age as you going to the club – you would go play with them. You would go to a tournament together as a group with all the parents – playing all the junior opens around me. That became playing for my county and then it got into international squads – that was huge.
It was a great tournament scene and I remember them very fondly. Playing the young junior events are so so important. It is great to see people working so hard to keep [the tournaments] on because that was the way I managed to get match play and learn the game really. You appreciate all the people who are working so hard to put them on. It's such valuable experience. You can train a lot and play a lot at your club but to get competitive match play – there is no substitute.
SU: Back in 2002, you won your third consecutive British Junior Under-19 Championship Title. What do you attribute to your success in these tournaments?
JW: That was a lot of hours and hard work. I think as a young person I was quite happy with working hard. It was also the environment at the club – the way my dad worked – it was getting kids to enjoy the game and putting in the hours in but it was fun hours. It wasn't pressured or calculated.
A mistake I see a lot of parents making now is trying to force the issue with kids when they just need to let kids find what they enjoy and then make it enjoyable as they can. And getting kids to do really heavy, hard individual sessions all the time is not going to be that much fun. Kids want to play and they want to free-style a little bit. It is all about being with their friends.
I think I made it quickly as a young player because I was brought up in that system of playing a lot of hours and learning how to hit the ball repeatedly and well but I was getting through those hours by enjoying it and not by lots of pressure from people and certainly not my parents. It was just a matter of me being down at the club and just loving the sport. And if one evening I didn't want to go on the court, I wouldn't go on the court. I would play tag with the kids – and all of that is really important as well.
SU: Did you learn a lot from playing your friends?
JW: Yes. We would all go and have a session on court or play three-quarter court or we would make up games. Hey, let's play off the back wall today because that's what you do as kids, isn't it. It doesn't have to be strict and structured. It doesn't have to be calculated, it needs to flow. And then one night there might be a park over the road and we might go and take a football over or play football on the squash court. These different things – you would just be active all the time at the squash club. Then you'd get your bag of crisps. That's how it happens. The key thing is the kids were enjoying it.
SU: You went pro at age 19. What about those early years on the tour? Was it a hard transition from the juniors to the pros?
JW: I didn't really think about it that much. It is a question that I often get asked but it is quite hard to answer. I just got on with it. I didn't really think about what the differences were. Obviously, you are probably processing all the differences in your head just naturally – like, these players are better, they are more professional, they hit the ball at a better pace, they are moving better because they are training harder – those things.
I trained pretty hard as a kid as well. I love training. I really love doing training sessions, putting myself through the ringer. I had that desire naturally – that desire to want to work hard. I remember doing warm-ups when other kids weren't even doing warm-ups. It was a bit strange, I supposed in a way, but that's what I was like. I loved doing and I was very interested in that whole work ethic and I loved the reward I felt from it from a very young age.
I think I was ready for it. It wasn't like I was shocked as soon as I became a professional – oh, wow, they do things differently here – I need to up my game. It wasn't about that. I already knew what it took. I knew I wanted to work hard to win. And I supposed that's what top players have inside them. They have a little spark in them. And that's maybe a lot of the difference between why some people don't make it as a professional player and some do. You have to have that desire and that discipline that it takes to get there. It actually takes an awful lot of hard work and pushing yourself day after day. And I must have been prepared to do that. Apart from the obvious things, it was quite natural for me. I was exposed to the top players in the world very early on. I had seen them play. By the time I was ready to play at that level, it wasn't bad – I was ready for it.
SU: Would you say that you didn't let nerves bother you very much or you weren't that intimidated?
JW: Nerves are always an issue. Whether they bothered me throughout my career, I don't know. Nerves aren't that nice. Everyone knows that being nervous is not a very nice feeling but it is part of the territory. At that time, when I was younger, I had been nervous before matches like anyone but I had this sort of freedom. I was so young and ready to go for it. I suppose that's how you are when you are 18, 19. I was getting nervous – I desperately wanted to do well and succeed. The nerves were there before matches. They always happen and they still are but I just refused to let nerves conquer me. I think nerves are a good thing and I tried to make them very positive things, which I think is where a lot of people struggle. They get it wrong because they think nerves are bad and they aren't really bad.
SU: They can motivate you in the same way.
JW: Definitely! Yeah, that's it. If you aren't feeling nervous then something isn't quite right. It means that you care. It means that your body is firing adrenaline. Often that is optimal for bringing out your best performance. But you have to manage it so the nerves don't overtake you. I try not to worry about them because I don't worry too much about the end result any more. There is just no point in wasting energy worrying about the results. If I lose, then I've lost. It doesn't matter. It's not the end of the world. You just have to accept it and move on. I try not to make too much of a problem for myself.
SU: As you have said before, it is just another squash match regardless – the world goes on.
JW: You try to tell players that. It is a very simple idea but it is true and it helps me to bring things back into perspective. I do know what it's like when you are wrapped up in a tournament and you are so nervous you feel sick and you just want to win. I have been in some tricky situations where I could win a world title for England at the team level – I have to win the deciding rubber [match]. It is not only your own career that this depends on but other people's. It is not a nice feeling at all. You desperately want it and you have put all years of hard work in and you want your team to be world champions. I remember that particularly being a horrible time.
But I just had to say to myself "look, you go in there as a player, you are on a team, all you ever do is give your very best and if that is not good enough, it's not good enough. If you have given your best, what on earth is there more to do in life than that. You have to give the best of yourself."
And if you can reduce it down to that – that is the essence of life, isn't it – then it doesn't matter in the end. It is a game of squash. Love matters and people matter. No one is going to worry too much if you can't win a game of squash. That is the way I get around it if I am really struggling. It is complex because you are feeling [nerves] from the bottom of your soul, from the bottom of your belly – it's a horrible feeling. I try to impress that upon people who speak to me about nerves. Just try to take all the worry out as much as you can and reduce it down to what we are about here. Not worry too much about it.
SU: I would say that you were successful at doing that and helping England win three gold medals in the World Team Championships. What did playing for your country mean to you?
JW: I don't get too wound up in the country stuff. Obviously, to play for England has always been very special – it is a strong squash nation. I think when I am on [the court], I am not really thinking too much about the patriotic side of things. I am thinking about the people around and just trying to win the matches.
SU: You reached the World No. 1 ranking in January 2012. I know you have put things in perspective for us but does the pressure change with that ranking?
JW: I don't think it did. If anything, it was a lovely year. I can talk all I'd like about trying not to worry about [becoming No. 1] but I wanted it badly. I had some very "nervy" times at the end of that year trying to win those tournaments that would get me to World No. 1. I knew that last tournament would get me there. Those weeks weren't particularly easy. It was just nerves but you think "well, it changes the rest of your life – you can be a World No. 1 for the rest of your life." Those chances don't come around all the time. I had worked so hard. I think when I did it I just thought how it's there now and what's the pressure – I have done what I wanted to achieve. Obviously, I wanted to stay there if I could. I wasn't stressed out by [being No. 1] at all. I was relaxed and relieved by it in a funny way.
SU: You were just more proud of yourself at that time.
JW: Yes. I just tried to enjoy it. It had been so hard getting there I didn't want it to then become any more of a difficulty. I am at the top of the tree – I wanted to be happy and try to enjoy it. When you are traveling the world as the World No. 1 player, I tried to enjoy that rather than make it a burden. I was always very comfortable being there. Not really a problem, I was happy to be there.